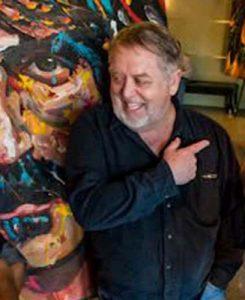 Michael Wardle was born in Ames, Iowa July 25, 1952. He came from a family of engineers and scientists, but knew at an early age that he would be an artist. Michael holds a Bachelor of Arts degree from Brigham Young University and has been a full time professional artist since 1974.
Mr. Wardle started doing portraiture in the 1970's, then moved on to figure painting and bronze sculpture in the early 80's. In 1989 he started dividing his time between traditional and abstract painting, feeling that both disciplines taught him something about the other.
Michael has lived and worked in California, Arizona, Utah, Nevada, Connecticut and New York. In the early 90's, Michael continued to work more on the abstract paintings and started doing murals for hotels and large homes in Las Vegas, as well as across the U.S. and in Mexico. He has shown in dozen of galleries from coast to coast and participated in numerous group and one-person shows. His work is represented in hundreds of private and public collections across the U.S. and abroad.
In 2002 Michael opened his own gallery in Downtown Las Vegas. In August, 2008 he moved to a larger live/work loft in the southeast part of Vegas.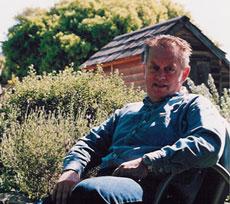 Artist's Statement – Michael Wardle – December 1991
For fifteen years, as a figure painter, I toned my canvases with a turpentine wash. I enjoyed watching the shapes that the brush strokes seemed to create as the pigment, suspended in the turpentine, would dance across the surface of the canvas. Often I would follow the shapes with more opaque applications of pigment to see where they went. But at some point I would always remind myself that I was a figure painter, mop out the design and patterns that were emerging, and proceed to paint what I had set out to paint.
Finally, late one night in March of 1989, something happened and I allowed myself to let go and follow the urges that had haunted me every time I started a painting. At about 3:00 A.M., I sat in my studio in front of two paintings, "Watch Me Run" and "Monkeys".
After 15 years of a somewhat rewarding yet frustrating career as a painter, I was home. When painting a representational canvas I am telling the painting what to be. When painting the abstract canvasses, the painting tells me what it is. Each stroke solicits the next, the flow is intuitive, yet deliberate. The process yields a surface that may look unordered and foreign at first, but as one spends time with it, familiarity and a structured sensibility reach out of the canvas and pull the viewer into a new world that has always been there.
I love painting these canvases. They are me, and I am them.